Accelerate Your Business Growth With Emma Blake
IN 12 WEEKS!
Using our Global Retail Accelerator Method

TM.
A program of structured

business coaching sessions with top female business mentor Emma, to educate and hold you accountable to your global growth goals.
=========
As a product-based business owner focused on achieving your business growth goals, you ...
Dream of a step change in sales success and need to start seeing consistency in those sales results too.
Have an ambitious, global, vision for your business, although right now it's taking longer than expected to get the traction you KNOW is possible for your brand.
Need help deciding where to invest next to get business growth because you've tried alot of things, spent a chunk of change and not all of it has worked so far...
If this is you - then
you already know
that you'll run a whole lot faster with proven methods, templates and someone showing you how it's done every step of the way.
This 12 week business coaching program is perfect for you if...
You want to accelerate sales in your product based business, reach the next level ... but don't know how.
You are feeling a bit overwhelmed by your "must-do" list, frustrated by slow sales progress and worried about funding stock and lumpy cashflow.
You want more and are still hungry for success - to grow wholesale accounts, develop new product lines and even expand into international markets using distributors ...but are unsure where to start.
You know traffic, conversion and volumes need fixing - you want to get to grips with the complexities of traffic acquisition, user experience and tackling conversion testing.
You are someone who will take action and

implement

the advice shared by an expert ecommerce coach to help you not only uncover and diagnose the issues in your unique business, but solve them too.
If this is you
-

then you are in the right place!

You are exactly where you are meant to be. This program has been specifically designed just for you...
Ready to access this personalised support package and make a step change to growing your business?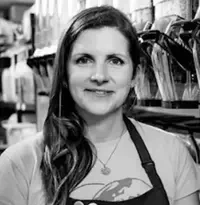 Laura
"Any business owner knows how it is incredibly all-consuming when running a business, where you can regularly feel overwhelmed with 'todo lists'. Meeting with Emma has helped A LOT, working out short and long term goals - breaking them up into manageable tasks has allowed me to become more confident with making 'bigger' business decisions."
By the end of this program,
you will have…
Step Changed Your Focus, Pace And Knowledge Of Essential "Power Topics"

Working alongside Emma, you will diagnose the real problems in your business. You'll gain a deeper understanding of what's needed to be successful and conquer your growth blockers as you work your way through each of our Global Retail Accelerator Program power topics.

Taken Hard Action, Implemented And Moved Forward

At each step of the program you will uncover fresh ideas for sales growth, create plans to fix issues and work at a pace that will catapult you into a new stage of growth.

Set A Roadmap For Growing Your Business

The program gives you a clear roadmap for growth, defining what sort of business you want to build and exactly the direction you want to grow it. You will feel crystal clear on the scale of your ambition.

Confidence To Start Talking To Investors, Funding Platforms & Banks.

Once you've completed the program, you will be sure of your numbers and business building risks - you will be well prepared to discover and discuss what funding is available for you.

Certainty You Are Working On The Right Things and Prioritising What's Important.

When you scale up a business there are so many things to worry about that it can all get a bit much. Using our simple, step by step approach and proven templates we help you sort out what you

really

need to focus on, to get your business flying.
But above all else...
This program will give you
Incredible Momentum To Scale Your Business Globally

When you know you have done the deep, structured thinking about your business idea and you've considered all the angles - it builds total confidence and energy for success. You will have put in place great foundations for the future.
Plain and Simple: This Program Does What It Says And It's Officially OPEN for enrollment
However,
I only accept a few new clients each month.
I'm offering an open and honest conversation about your business and whether I could be of support.
During this free Breakthrough call we will uncover hidden growth challenges that may be holding you back and discuss how I can help you to scale up your unique business faster than you are doing now.
What's Inside
The Global Retail Accelerator Program
In 12 weeks
Kick Off Session

Growth Strategy
Description: What business are you really building? How far and how fast do you want to scale? Are you prepared to do whatever it takes to get there?
You will get a clear roadmap for growth, defining what sort of business you want to build and exactly the direction you want to grow it. You will feel crystal clear on the scale of your ambition.
Highlights:
Where are you now?
Where do you want to be?
What are the exact steps that will get you there.
Competitors and global target markets.
Power Topic 1
Inventory Problems As You Scale
Description: Do you have the right inventory that customers actually want to buy? Is it good enough? This is called Product, Market fit. If you don't have it, scaling up your business will be next to impossible.
You will learn how to check global demand for your inventory, we'll review current levels and uncover inventory issues fast.
Highlights:
Do you have the right inventory to get growth?
Uncover why customers aren't buying.
Diagnosing product line, quality and obsolescence issues.
How to fund inventory growth as you scale.
How to re-engergise your business by releasing cash from stale or dead inventory, fast.
Power Topic 2
Sales Plan + Marketplace Listings
Description: Whether you want eCommerce B2C growth or to drive wholesale accounts globally, this power topic tackles how you'll get this done.
You will create a sales plan for your business AND take action to make it happen. Start chasing down fresh sales opportunities and open up new sales channels with momentum.
Highlights:
Sales Plan Template (Deciding exactly how you will sell your product to achieve volumes ... which platforms + places).
Pricing for wholesale and distribution deals.
Resourcing sales activity and driving performance.
Installing professional sales discipline in your business.
Implementation Week
Sales Plan Growth / MarketPlace Listings
Power Topic 3
Driving Traffic
Description: Driving fresh traffic to your website will always be vital to online trading success. But are you driving enough traffic to reach your goals, and is it the right traffic? If not, why not?
You will uncover where your traffic gaps are in your business and the action required to address them. Learn how to power up traffic to your store like a pro.
Highlights:
How to target and acquire customers
Ideal customer avatar and audience demographics
Link Building
Organic vs Paid for traffic strategies
Implementation Week
Traffic Driving Activities
Power Topic 4
UX & Conversions
Description: If you have traffic to your website but it's not converting at the rate or scale expected, then we need to dig deeper and find out why.
You will diagnose the issues with your current eCommerce user experience, identify both the conversion blockers and start removing any technical or psychological objections customers have about buying from you.
Highlights:
Applying Diagnostic Tools
Removing customer objections
Testing strategies
Incentives and Irresistible offers
Power Topic 5
Product Development & Range Optimisation
Description: As you scale globally we need to ensure you continue to deliver fresh product ideas into the market and optimise the lines you carry in store.
You will create a high level product development strategy and learn how to review and optimise this as you scale.
Highlights:
Core range optimisation
Range extenders
New Product Development (NPD)
Pricing and Product profitability
Implementation Week
Add To Basket Rate Fixes
Power Topic 6
Scaling Up Operations
Description: When you grow your business, everything has to expand - not just sales, but costs, capacity, funding and resources. Are you ready for that? Can your current processes cope with 10X the order volume or would you need to automate or evolve to make it all work smoothly?
You will review your existing operational capability including warehousing performance, resources and processing capacity and create a plan to fix and future-proof for growth.
Highlights:
Operational diagnostic
Financing / Funding and Investment mindset for growth
Future capabilities and organisation design
Power Topic 7
Branding & Content
Description: To be successful in today's online world we must stand out and be unique. What are you known for? What makes your business truly unique? And how are you using content to attract and engage your audience, bringing them into your branded world?
You will review your current brand personality, identifying weaknesses and gaps when compared to competitors. You will learn the importance of content strategy and create your very own "next level" content growth plan.
Highlights:
Brand values and personality
Brand positioning
Content creation strategy.
Power Topic 8
Partnerships & Affiliates
Description: In our experience, that fastest way to step change growth is through exciting partnerships and strategic alliances - working with collaborators and affiliates to grow your sales and reach new audiences.
You will learn the benefits of partnering successfully and create a long term Partnership plan to help you to drive sales growth. You will also consider affiliate marketing and the implementation steps in creating a sought-after affiliate program for your business.
Highlights:
Partnerships & Collaborations
Implementing and scaling your Affiliate program
The Investment
If you are the sort of person who has a business growth plan in place but it's secretly stashed in a dusty cupboard or lost in the depths of file explorer, then it will cost you a FORTUNE to miss this.
This is your chance to turbo-charge your momentum and STAY on track with your business growth plans. Here's how to secure your 1-2-1 Business coaching program with Emma:
Full Program:
The Global Retail Accelerator
Package £9000 +VAT
Intensive 12 Week, Fast Track.
We step change your focus, pace and depth of knowledge across all of the program "power topics".
12 x weekly business coaching sessions with Emma (60 minutes each).
PLUS a Strategy Workshop to create your 3 year growth roadmap (valued at £1500 +VAT).
Global Sales Plan Template, Affiliate Outreach Tracker and Stock Review Templates.
90 day sprint plan creation and update during each session.
UNLIMITED ACCESS to Emma outside of core sessions via email, to ask ANY question about your business growth.
Access to our Client Support Q&A Helpdesk + Knowledge Bank during office hours 8am to 6pm GMT.
Must be completed in 12 weeks.
Flexible start dates and Payment plan available (Pay As You Go).
We help you create fast track growth opportunities and build sales momentum.
BOOK NOW
Lite Program:
Select 3 x Power Topics
Package £3000 +VAT
3 Month Program, Best Seller.
Focused on your top 3 "power topics" only, set as priority goals.
We kick off with a Strategy Workshop to create your 3 year growth roadmap (valued at £1500 +VAT).
PLUS 3 x follow up business coaching sessions with Emma to work your chosen "power topics" (90 minutes each).
90 day sprint plan creation and update during each session.

The opportunity to ask an expert ANY question about your business growth during sessions.

Typically taken over 3 months.
Flexible start dates and Payment plan available (Pay As You Go).
We help you set your business growth plan and stay on track.
For most clients, this program leads to ongoing monthly business coaching.
BOOK NOW
Ongoing Support:
Monthly Business Coaching
£500 +VAT p.m.
Flexible. Pay As You Go Sessions
Dip your toe in the water and try a one off monthly session held via zoom (90 minutes).
We will uncover hidden growth challenges that may be holding you back and we'll decide on your top 3 priority goals to help move you forward.
PLUS we'll create a 90 day sprint plan for immediate execution.
Each session aims to kick-start growth and create momentum in your business.
The opportunity to ask an expert ANY question about your business growth.
BOOK NOW
Platinum Club Program
£30,000 + VAT
12 Month Private 1-2-1 Access
An exclusive 12 month program working 1-2-1 with Emma to catapult your business into rapid growth. You must have a proven product sales track record to qualify for this program.
Includes weekly Q&A sessions with Emma held via zoom, covering the current business challenges you face.
UNLIMITED ACCESS to Emma throughout the year, via email.
Working towards your priority growth goals for the year.
Monthly "power" topics to expand your knowledge and fast track your growth.
APPLY NOW
Want to know what your fellow business owners asked before booking their 12 week business coaching program? ...
How do I know if business coaching is for me?
Can I pay by installments?
I'm not an Accounting Client of yours, can I still join?
I'm based outside the UK, can I still join?
Do you do the work for me?
How soon can I get started with business coaching?
What if I can't start straight away?
What if I don't have a product?
Will you give me introductions to stockists and distributors?
How soon can I see results from business coaching?
What if I want more access to Emma outside of the scheduled business coaching sessions?
If you are thinking "this sounds amazing but I'm not 100% sure"...
- then keep reading...
You should give this business coaching program a shot if you are motivated by any of the following:
You are craving dedicated time to tackle the real problems in your business because you're peddling so hard day to day that you never seem to get to the important stuff.
You are currently selling online and open to adding powerful marketplaces to your ecosystem because you know this will expand your access to potential customers.
You have been looking for an experienced business mentor who gets results for clients and a product based business coach who is genuinely on hand to ask all those business building questions.
You are seeking a trusted person to share worries with and a safe space to talk through your confidence, courage and most audacious business goals.
You know that regular accountability check-ins work for you and will ensure you stay on track, moving you towards your growth goals.
You need a reason to keep up the momentum and not procrastinate.
Bespoke Consulting Projects & Expert Support
To discuss your bespoke project, simply contact us or email us your question directly: [email protected] and we will get back to you as soon as we can.